A Moment in Time: Dr. William and Alice Page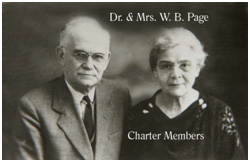 Among the dozen or so people who met in late February, 1913, to organize a congregation that would later become Eighth Street Mennonite Church, two of the most energetic were Alice Thut Page and her husband, Dr. William Page. Alice and William were in their mid-40s at the time, and counted two decades of innovative experience.
Twenty years earlier they were they were among the eager young adults who moved from rural Mennonite communities to Chicago where they had launched the Mennonite Home Mission in the city's Pilsen neighborhood. William completed medical school in Chicago and thereafter offered free medical care and house calls to families in the mission's neighborhood.
Late in life, when asked to describe what medical work entailed in those years, Page told of a time he was sitting beside the bed of a patient in a cramped tenement located over a raucous tavern when gun fire broke out in the bar and a bullet came through the floor, right between Dr. Page's knees, and on through the ceiling.
After six years of ministry in Chicago Alice and William volunteered, along with two of their eventual five children, to be the first North American Mennonite missionaries in India, where they established a medical dispensary. When ill health forced the Page family to return to the U.S. they settled in Goshen, and channeled their experience, connections, and convictions into the early life of this congregation.
After the Pages' deaths, one of their daughters donated a communion table to Eighth Street Mennonite Church in memory of her parents, a table we still use today. As our practice of communion forms a body that lives, perhaps the Pages' table, in its unassuming service, can remind us of our connections to a larger body to which we are connected—those across time, here in Goshen, in Chicago, in India, and beyond.
* * * * * *
Alice Thut Page (1872-1951) was born near New Stark, Ohio. William B. Page (1871-1945) was born in rural Juniata County, Pennsylvania. They were the parents of five children, Anna, William T., Mary, Ralph, and Marian. Dr. Page attended Valparaiso University, Ohio Northern University, and Chicago Medical College. In Goshen the family lived at 214 E. Lincoln Ave., in a home that was later removed to create a municipal parking lot.
Sources: Rachel W. Kreider, "The History of the Eighth Street Mennonite Church 1913-1978," (1978); John A. Lapp, The Mennonite Church in India (1972); Emma Oyer, What God Hath Wrought in a Half Century at the Mennonite Home Mission (1949); A Warkentin, ed., Who's Who among the Mennonites (1943).