A Moment in Time: Emma Hartzler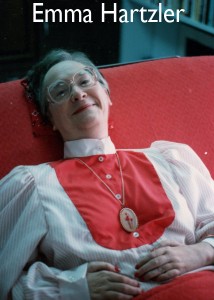 Emma Hartzler had come inside from hanging laundry behind her family's home on South 7th Street, when she realized just how sick she felt. She was seven months pregnant with her third child, but she knew this was no pregnancy-related illness. She called her husband, Bob, who was in his seventh year as the pastor here at Eighth Street Mennonite Church, and soon they were checking into the hospital, and then being transferred to another hospital, and then – then, having confirmed what so many people in that year of 1952 feared, the dread disease of the decade: spinal polio.
Emma was placed in what was commonly called an iron lung, an enormous machine that forced her body to breath, confining her life in order to save it. Five days later gave birth to a son, while in the iron lung. Soon thereafter she became paralyzed and briefly went into a coma, but later recovered speech and some movement.
It was the beginning of a thirty-nine year journey of confinement: the iron lung, or a rocking bed, and near-constant care.
People here at church surrounded her and her family with prayer and support. In the image we have this morning, they were covering her, as it were, with their wings. Small groups of women met regularly with her to pray, to read to her, and to discuss books. Eventually Emma herself began to write, fastening a pad of paper and a pencil to the side of the iron lung with a magnet. Although she couldn't see what she was writing, she composed many poems and essays, generally upbeat but always honest, including this quatrain, "Of Bond and Free," written on the tenth anniversary of her diagnosis:
The one who trusts in God is free
Though iron-barred his body be;
While he who fears makes for his own
A prison real as one of stone.
* * * * * *
Emma Blosser Hartzler (1920-1991) was born in Wayne County, Ohio. She graduated from Goshen College in 1942 and later that year married Robert W. Hartzler. They were the parents of three sons, Gregory A., Geoffrey O. (1946-2012), and Kim N. (1952-1969). Emma was visited by thousands of people through the years. Visitor names filled thirty-five guest books during the years 1978-1991 alone, when she resided at Greencroft.
Sources:
Rachel W. Kreider, "The History of the Eighth Street Mennonite Church 1913-1978," (1978);
Dan Shenk, "Lusty Swallows of Life," The Mennonite, Feb. 11, 1992, 51-52;
Black Velvet: Poems by Emma Hartzler (1989); Who? [a lengthy free-verse poem lamenting nuclear weapons]. Both poetry collections are available in the church library.